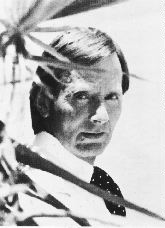 Volume 1, No. 3, Summer 1998
---
This site is dedicated to the memory of Elleston Trevor (Adam Hall), pictured at left in a photograph by his son, Jean-Pierre Trevor (from the dustjacket of The Mandarin Cypher). Elleston was the author of the nineteen Quiller novels we refer to as the Q-orpus, and the greatest writer of espionage fiction who ever lived.



It is the credo of this site that the Q-orpus is insufficiently appreciated as high literary expression of how espionage is, or should be, practiced.



Nineteen novels of unbelievable density, expressed with sledgehammer force and lean style, are more than enough to spin outward into the world-vision of the remarkable Quiller and his equally remarkable creator, Adam Hall. If you don't believe it, just stick with us.



Once more, the adventure begins...

Iron Mouth [Rick Holt]
December 31, 1997